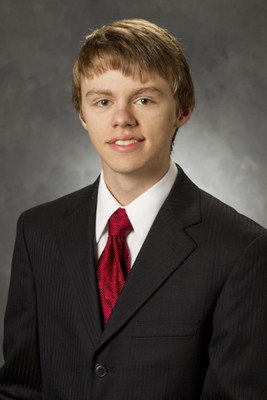 Michael Land, Class of 2015, is majoring in genetics, cell biology and Spanish. His hometown is Jasper, Georgia, and he hails from Pickens County High School. Named a University of Georgia Foundation Fellow, Michael plans to pursue a career as a research geneticist.
On campus as a freshman, Michael is already delving into his passion for music. He plays for the Redcoat Marching Band as an alto saxophone player and is first alto for the UGA Basketball Band.
In high school, Michael was assistant drum major and a section leader. He's excited about pursing his future in genetics.
"As a future physician-policy analyst confronting health disparities, I plan to work with stakeholders to promote policies and programs that improve access to health services. This involves balancing dual priorities. A physician-epidemiologist recently explained this dilemma – as a doctor, he treats individuals, but when he looks beyond the examining room and sees patients waiting outside the clinic, he is reminded of his role as a public health official. The individuals and communities waiting just past the doorway are the focus of my goal of promoting human dignity and the right to good health."