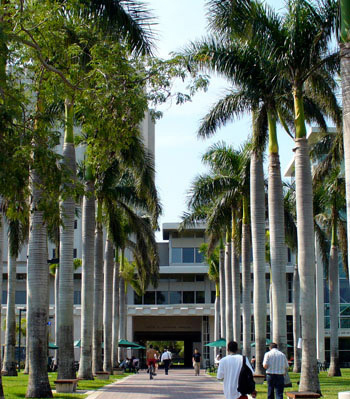 University of Miami / The Frost School of Music
The Frost School of Music, one of two schools created in 1926 when the University of Miami was founded, is one of the largest and best music schools located in a private university in the U.S., and one of the most comprehensive in all of higher education. Resources from both the Stamps Family Charitable Foundation and the University of Miami will fully fund tuition, plus room and board for a total of 19 music students. As part of their experience, students will receive career guidance and take part in artist-building activities. During their studies, they will attend special master classes, obtain high-level mentoring, record music, and play and tour for key performance opportunities.
The Frost School of Music has developed various initiatives, classes and programs that are distinctive in higher education. The School's innovation, combined with its traditional areas of concentration, offers its students one of the widest choices of career programs of any music school in the nation.
This new scholarship fund reinforces the Frost School's pragmatic leadership position among its peers. It re-imagines what a music curriculum is, by helping to create entrepreneurial units among its students and improve their professional skill sets. More notably, the program will prepare students for a career in music.
The Fund will allow the Frost School of Music to attract top student musicians who, as part of their curricular program, will form very special chamber ensembles.
Stamps Jazz Quintet: In the fall of 2009 a group of five exceptional freshmen were chosen to participate in a jazz quintet.
Stamps String Quartet: In the fall of 2010, four more highly talented freshman were admitted to study and participate in a string quartet.
Stamps Woodwind Quintet: Five additional stellar freshman will be selected to participate in a woodwind quintet in the fall of 2011, and
Stamps Brass Quintet: Five more outstanding freshman will participate in a brass quintet in the fall of 2012.
Admission Process for the Stamps Scholarship
To be considered for the Stamps Ensemble Scholarship the University of Miami Undergraduate Application and the Frost School of Music Application must be filed by the December 1st deadline. Auditions for the Frost School of Music must be completed by the March 1st deadline.
Students are selected for the Stamps Ensembles by recommendation of the performance faculty based on their audition and by the office of admission based on their academic credentials.
Tel: 305-284-2241
Website: http://www.miami.edu/frost/index.php/frost