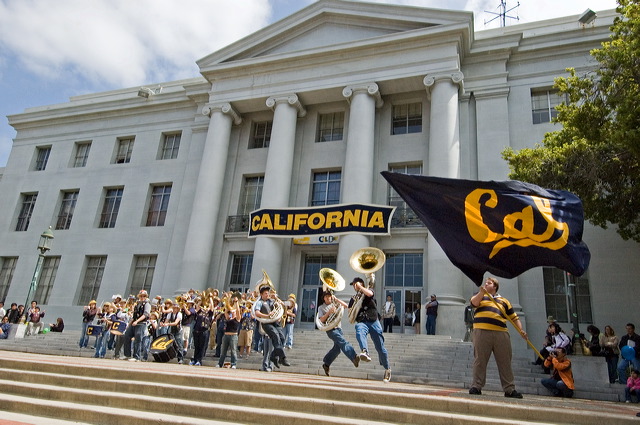 The University of California, Berkeley is one of the world's leading academic institutions and ranked as the premier public university. The campus is renowned for the size and quality of its libraries and laboratories, the scope of its research and publications, and the distinction of its faculty and students. National rankings consistently place Berkeley's undergraduate and graduate programs among the very best in a variety of disciplines.
Even as it strives to produce groundbreaking research that is reshaping the world, the University has not lost sight of its core mission: teaching and educating superb undergraduates. One of the country's most selective universities, Berkeley received more than 60,000 applications last year, and admitted about a quarter of all applicants, with 98 percent of incoming freshmen graduated in the top 10 percent of their high school class.
The Regents' and Chancellor's Scholarship is Berkeley's most prestigious scholarship awarded to entering undergraduates. Designed to attract to Berkeley, the most sought-after students in the world, this scholarship program offers a wealth of resources that will enhance their educational experience and beyond. Past Scholars have gone on to earn notable accomplishments during their tenure at Berkeley including as Student Regent on the University of California Board of Regents, Associated Students of the University of California President, the Editor-in-Chief of the Daily Californian, and winners of the University Medal. Regents' and Chancellor's Scholarships are renewable each year, up to a maximum of 8 semesters for incoming freshmen.
Of those who are offered admission as Regents' and Chancellor's Scholars, the Office of Financial Aid and Scholarships will nominate high-achieving students who demonstrate leadership, perseverance, scholarship, service and innovation for consideration as Regents' and Chancellor's Stamps Foundation Scholars. The Stamps Foundation will interview and select recipients of the Regents' and Chancellor's Stamps Foundation Scholarships.
Selection Process:
The Faculty Committee will select Regents' and Chancellor's candidates on the basis of the information available on their UC Application for Undergraduate Admission, including GPA and SAT test scores. Other factors that may be considered include: the applicants personal statement, extracurricular activities, academic potential, evidence of overcoming personal hardship, and other academic or personal qualities that would make a distinctive contribution to the campus.
The top 1 percent of incoming freshmen applicants will be invited to apply for the Regents' and Chancellor's Scholarship. As part of the selection process, 100 of Berkeley's distinguished faculty members conduct more than 800 interviews on campus and in the Los Angeles area.
The Regents' and Chancellor's Stamps Foundation Scholars will receive $5,000 per year, along with an Enrichment Fund of $10,000, which may be used for travel abroad, internships and conferences in the student's field of study. In addition, Scholars will also receive the following benefits:
Priority enrollment for classes
Regents' and Chancellor's Research Fellowship: an opportunity for Scholars to apply for a one-time fellowship of up to $1,000 for research projects or research-related travel
Assigned Faculty Sponsor: guides Scholars on long-term academic and professional plans
Guaranteed housing in a University Residence for the full duration of the scholarship
Invitation to join the Regents' and Chancellor's Scholars Association (RCSA): sponsors social events and coordinates community service projects, as well as a unique opportunity to encounter Scholars from every class level.
Perspective students may visit http://www.berkeley.edu/apply/ to learn more about admission requirements for UC Berkeley.