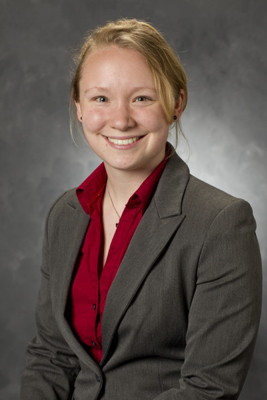 Megan White, Class of 2015, is majoring in international relations and linguistics. Her hometown is Johns Creek, Georgia, and she hails from Northview High School. Named a University of Georgia Foundation Fellow, Megan plans to work as an international correspondent for CNN and ultimately, as Secretary of State.
On campus for half a semester, Megan is already tackling diverse interests. She regularly appears as an opinion column writer in The Red & Black, UGA's independent student-run newspaper. She also participates in Demosthenian Literary Society; First Book, a group that provides books to underprivileged students in Athens; and Quidditch, an Ultimate Frisbee game based on the sport created in J.K. Rowling's Harry Potter series.
In high school, Megan was editor-in-chief of the high school newspaper and a varsity swimmer. She looks forward to what UGA has in store for her future.
"I want to study several languages. I plan to minor in French and Russian and begin learning Persian. Central Asia is my region of interest, and I'm thinking about studying abroad in Tajikistan. I'm also considering the Honors in Washington internship, and perhaps working for the State Department at some point."