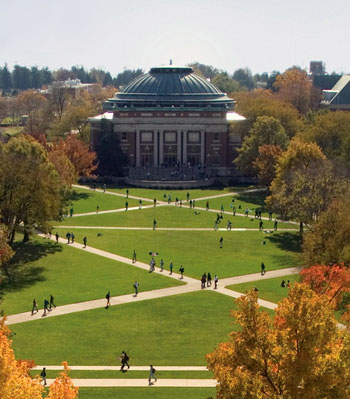 University of Illinois at Urbana-Champaign
The Stamps Scholars Program at the University of Illinois recognizes and rewards exceptional students for their leadership, perseverance, scholarship, service, and innovation. The merit-based scholarship, matched dollar-for-dollar by the Foundation and the University of Illinois, covers the total estimated cost of attendance and includes an enrichment fund to support study abroad, undergraduate research, unpaid internships, conferences, and other approved enrichment activities.
Stamps Scholars at Illinois are presented with the challenges of making a difference, giving back in some way, and developing their leadership capacities. By drawing on their talents, values, and passions, our students are tasked to determine how they can help create this transformational experience for themselves and others.
Signature Components of the program include:
Freshman Retreat focusing on outdoor adventure, relationship-building, personal reflection, and leadership.
Class Project that brings each "class" of scholars together to conceive, plan, implement, and review a team project that promotes the mission of the Foundation itself: to make a difference in the lives of others.
Leadership Certificate, which engages students in academic, co-curricular, and self-developed experiences to better understand and demonstrate principles of leadership.
Study Abroad experience during the undergraduate career, which may include winter break, summer, semester, or year experiences.
Along the way, Stamps Scholars will have access to many wonderful folks through their colleges, departments, and co-curricular experiences. Additionally, the Stamps Scholar Advisor, Chris Armstrong, works directly with our students to provide guidance over all aspects of the program and to assist in creating the collaborative and spirited environment amongst our scholars. The program itself is administered through the Honors Program in the Campus Center for Advising and Academic Services.
Admission Process for the Stamps Scholarship
Each year, student admission files are thoroughly reviewed for students who demonstrate leadership, perseverance, service, and innovation while maintaining a high level of academic success. No additional application is required. From our highest achieving students, we focus primarily on the quality of the honors and awards, involvements, work experience, and essays contained in the admission application.
Candidates are contacted by the Office of Undergraduate Admissions to arrange a visit to campus. During this visit, candidates meet the program advisor and current Stamps Scholars, learn more about the program at Illinois, and when possible, chat with Mr. Stamps via video conferencing. From these candidates, five recipients will be selected to become Stamps Scholars at Illinois. More details of the admission process are located on the Stamps page.
Tel: 217-333-1000
Website: http://illinois.edu/