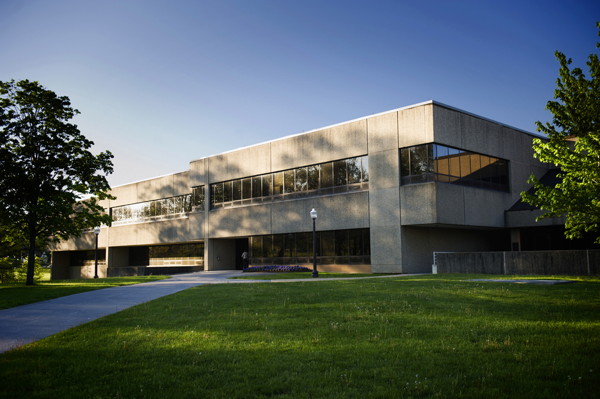 Virginia-Maryland Regional College of Veterinary Medicine
The Virginia-Maryland Regional College of Veterinary Medicine (VMRCVM) is a two-state, three-campus professional school operated by the land-grant universities of Virginia Tech in Blacksburg and the University of Maryland at College Park. Its flagship facilities, based at Virginia Tech, include the Veterinary Teaching Hospital, which treats more than 40,000 animals annually. Other campuses include the Marion duPont Scott Equine Medical Center in Leesburg, Va., and the Avrum Gudelsky Veterinary Center at College Park, home of the Center for Public and Corporate Veterinary Medicine. The college annually enrolls approximately 500 Doctor of Veterinary Medicine and graduate students, is a leading biomedical and clinical research center, and provides professional continuing education services for veterinarians practicing throughout the two states. Virginia Tech, the most comprehensive university in Virginia, is dedicated to quality, innovation, and results to the commonwealth, the nation, and the world.
The college conducts a broad spectrum of basic/molecular and translational/applied research that is strongly focused on human health and well-being, and animal health and productivity. In its MS and PhD degree curricula, and research operations, VMRCVM operates as a single multidisciplinary program – Biomedical and Veterinary Sciences (BMVS) – under the direction of the office of the Senior Associate Dean of Research and Graduate Studies.
The VMRCVM doctoral program leads to a PhD degree with a combined total of 90 credit hours of course work, research and dissertation. The PhD can be completed in four years.
The MS degree comprises a combined total of 30 credit hours of course work, research and thesis, and can be completed in two years. The dual degree program leads to both DVM and PhD degrees in six years. These studies allow candidates to pursue research opportunities in biomedical and/or clinical sciences.
With the generous support of The Stamps Family Charitable Foundation, the program invests in an exclusive group of high-achieving PhD candidates. The Virginia-Maryland Regional College of Veterinary Medicine provides matching dollars to offer a full merit scholarship. This is comprised of full tuition and stipend, as well as travel and research funding. The award is renewable each year, based on GPA, leadership training, and community service requirements.
The Benefits of being a Stamps Scholar at VMRCVM:
A faculty advisor who serves as your personal mentor
Unique cultural experiences within the VMRCVM community
Participation in a multidisciplinary graduate program
Leadership training in research within a specific field of study
Exposure to professional veterinary programs
Access to a national network of Stamps Scholars and special Stamps leadership and fellowship programs
Admission Process for the Stamps Scholarship
Admittance to the VMRCVM Graduate Program is through a highly competitive process. All candidates must first apply to the Virginia Tech Graduate School. The VMRCVM Graduate Affairs Committee then reviews qualified candidates, and the most outstanding students are admitted to the program. The minimum requirements for entry into the graduate program include: Prospective Stamps Leadership Scholars must meet minimum requirements:
A GRE score of 1070 or higher
An Undergraduate GPA of 3.0 or higher
Demonstrated and active involvement in community service, leadership and research
The VMRCVM Senior Associate Dean for Research and Graduate Studies then selects candidates for the Stamps scholarships from the highest ranked admitted students who are eligible.
For more information, please go here.
Tel: (540) 231-7666
Website: http://www.vetmed.vt.edu/