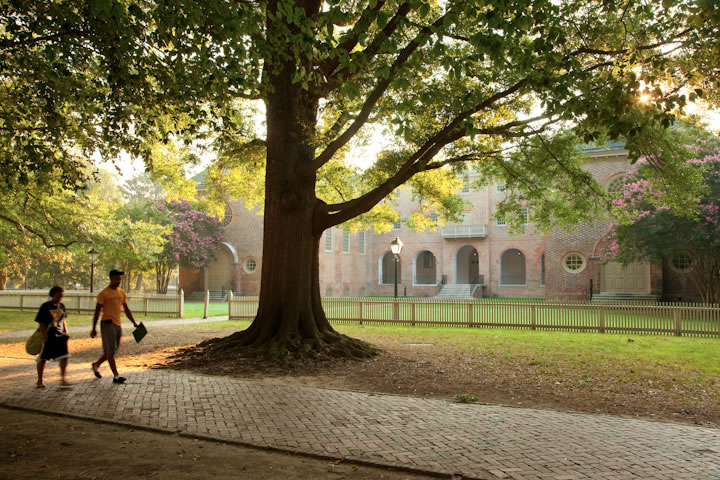 College of William and Mary Stamps 1693 Leadership Scholarship
Founded in 1693, the College of William & Mary, located in Williamsburg, Virginia, has for centuries been an important source of leadership. United States Presidents, including Thomas Jefferson and James Monroe, have called William & Mary their alma mater, as have contemporary alumni such as former U.S. Secretary of Defense Robert M. Gates, actress Glenn Close, comedian Jon Stewart, and Pittsburgh Steelers Head Coach Mike Tomlin.
Students come to William & Mary determined to change the world and they graduate equipped with the tools required to tackle the diverse and complex challenges of the 21st century.
All William & Mary students meet rigorous entrance requirements, but undergraduates eligible for 1693 Scholarships are exceptional even among their distinguished peers. The 1693 Scholars enrich the life of the campus and have the potential to make enormous marks on their communities, the nation, and the world during their lives. At William & Mary, they work closely with distinguished faculty mentors, planning their own courses of study. The 1693 Scholars enjoy access and support reserved at most universities exclusively for graduate students, and take part in special events and programs, including meetings with leading artists, scientists, politicians and humanitarians who regularly visit campus. In addition to their tuition, 1693 Scholars receive funding for independent study projects, which may involve travel, research, or a range of creative or service-oriented endeavors.
Through the generosity of the Stamps Family Charitable Foundation, William & Mary is now able to extend these opportunities through Stamps 1693 Leadership Scholarships. Consistent with the values of the Stamps Family Charitable Foundation and the requirements of the 1693 Scholars program, Stamps 1693 Leadership Scholars demonstrate leadership, perseverance, scholarship, service, and innovation.
Admission Process for the Stamps 1963 Leadership Scholarship
All freshman applicants to the College of William & Mary will receive consideration for Stamps 1693 Leadership Scholarships. Please click here for more information about applying to William & Mary.
Tel: 757-221-4000
Email: admiss@wm.edu
Website: www.wm.edu