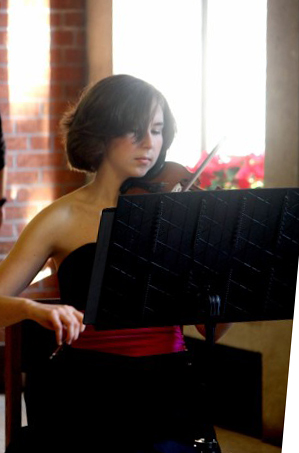 Andrea Berkemeier, homegrown in Jackson, Michigan, is a class of 2014 Stamps Scholar at the University of Michigan where she is majoring in biomedical engineering and minoring in music. In high school Andrea was president of the National Honors Society and helped her school earn certification as a Michigan Green School by reestablishing a defunct recycling program.  Of her five siblings and large extended family, Andrea is proud to be the first to attend the University of Michigan.
On campus Andrea is very involved with Society of Women Engineers (SWE). She just finished her term serving as a Summer Engineering Exploration Camp Officer, where she and her co-officer planned, organized, and directed a week long residential camp at UM for 42 high school students interested in engineering.  This year, Andrea will serve as the New Member Outreach Officer where she hopes to spread her enthusiasm for SWE and the UM College of Engineering with her peers.
Although her love of math and science influenced her choice of majors, Andrea's love of the arts influenced her decision to minor in music. During the school year, she sings in the Women's Glee Club and plays violin with the campus orchestra.  In between her hours at her summer engineering internship, she manages a small teaching studio and performs with Baroque Again, a swankified string quartet that features composers ranging from Bach to Eric Clapton.
Beyond her studies Andrea enjoys biking, writing letters, hand-crafting jewelry, and experimenting in the kitchen.