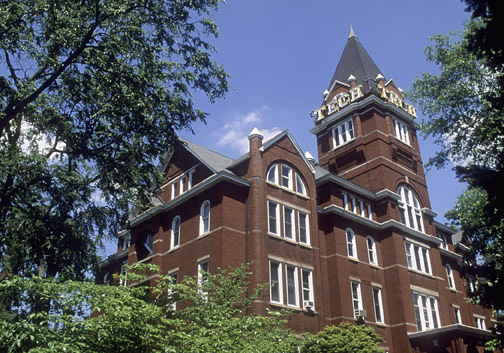 Georgia Institute of Technology Stamps Leadership Scholarship
The Stamps Family Charitable Foundation's $5 million commitment will create within Georgia Tech's President's Scholarship Program the Stamps Leadership Scholars Awards beginning Fall 2006 and concluding after Fall 2015. Those funds will be matched dollar-for-dollar by Georgia Tech's Office of the Provost to fully fund the Stamps Leadership Scholars Awards, Georgia Tech's first fully funded merit scholarships with enrichment opportunities.
This extraordinary initiative seeks to recruit the most promising scholars from across the nation; to foster their development as scholars, leaders, and citizens of the greater community through purposeful programming and enhanced educational opportunities; to mentor and advise them during their Tech careers; and to graduate stellar, well-rounded individuals who will serve as leaders in our technologically driven world. These students represent the pinnacle in academic achievement and leadership accomplishment, and are the top 10 to 15 Tech freshman every year. The Stamps Leadership Scholar Awards will provide awards to out-of-state students that include tuition, fees, room and board, a personal computer, personal expenses, and books; and awards to in-state students that include room and board, a personal computer, personal expenses, and fees and books not covered by the HOPE scholarship awards. In addition, individual enrichment opportunities might include an outdoor summer leadership development experience prior to the freshman year, a grant to support a public service internship and/or an undergraduate research experience, or one or more travel/study abroad experiences. "What is unique about the Stamps scholarship is the rich diversity of experiences our students gain through the enrichment opportunities available to them. Georgia Tech Stamps Scholars take part in amazing projects that enhance not only their lives but the lives of many others," says Chaffee Viets, director of the President's Scholarship Program at Georgia Tech.
"The great thing about choosing merit scholarships as a way to support Georgia Tech is the opportunity to watch students grow and mature while they're on campus and later on, after they begin their careers," says Stamps. "Coming to campus to meet Tech's fantastic crop of President's Scholars is something that my wife, Penny, and I always look forward to because we get so much energy and inspiration from them," said Stamps. "These amazing young people are so bright and so motivated not only to do well in life for themselves, but also to find ways of making a real difference in other people's lives."
At Georgia Tech, Roe Stamps serves as the Vice Chairman of the Campaign Georgia Tech Steering Committee, has been involved in a number of student-focused philanthropic efforts, including the renovation of the old Houston Bookstore Mall into the Penny and Roe Stamps Student Center Commons, the Dr. Edward Roe Stamps III Health Services program in the Joseph P. Whitehead Building and the Stamps Athletic Fields adjacent to the Campus Recreation Center.
Admission Process for the Stamps Scholarship
To qualify as a candidate for the President's Scholarship, a student must:
• Be a U.S. citizen or permanent resident.
• Apply for admission to Georgia Tech as an entering first-time freshman by October 15.
* SAT and ACT scores from the October test will be considered if Georgia Tech is designated as an immediate recipient of the scores.
Students selected as semifinalists will receive a supplemental application, and will be interviewed by regional committees. Semifinalists typically have earned top grades in the most challenging courses offered at their high schools, have SAT scores ranging from 1440-1560 for the middle 50 percent, and have demonstrated outstanding personal achievements and leadership outside the classroom in a variety of activities. Finalists will be invited to President's Scholarship Weekend on the Georgia Tech campus for a second interview and other activities during March.
For more information on the Stamps Scholarship at Georgia Tech, click here.
Tel: 404-894-2000
Website: www.gatech.edu