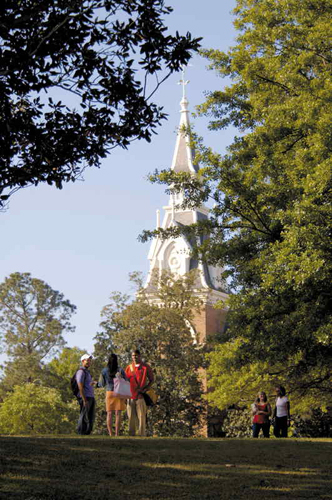 In full complement with Mercer University's emphasis on liberal learning, discovery, and service to humankind, the Stamps Scholars Program emphasizes the initiative of the individual, from engaging in philanthropic efforts worldwide to conducting research to demonstrating a passion to improve local communities. Mercer Stamps Scholars showcase the potential that young, emerging minds can have on the world.Students selected for the Stamps Scholars Program at Mercer University are among the highest achieving applicants in the entering class. The scholarship covers the full cost of attendance, including tuition, fees, room, board, and books. In addition, Stamps Scholars will each receive a $16,000 stipend over four years for enrichment activities, such as study abroad or undergraduate research."Mercer has a well-established reputation for attracting some of the most capable and talented students in the country," says Mercer President William D. Underwood. "The Stamps Scholars Program will allow us to provide further incentives to encourage the brightest students to enroll at the University. I am very grateful to Roe and Penny Stamps and the Stamps Family Charitable Foundation for bringing Mercer into this outstanding program."Founded in 1833, Mercer University is one of America's oldest and most distinctive institutions of higher learning, offering rigorous programs that span the undergraduate liberal arts to doctoral-level degrees. With more than 8,200 students enrolled in 11 schools and colleges on campuses in Macon, Atlanta, Savannah, and Columbus, Georgia, and at five Regional Academic Centers around the state, Mercer is consistently ranked among the nation's leading institutions by such publications as U.S. News & World Report and the Princeton Review. 

Application ProcedureTo qualify as a candidate for the Stamps Scholars Program, a student must:

Be a U.S. citizen or permanent resident.
Submit all required application components (application, test scores, transcript, and résumé) by November 1.
Have demonstrated qualities of leadership, perseverance, scholarship, service to humankind, and innovation.

Mercer's Stamps Committee will recommend a select number of applicants as semifinalists. The semifinalists will receive a supplemental application and will be invited to campus to be interviewed by the Committee in February. Finalists will be notified on or before March 31.

For more information about the Stamps Scholars Program at Mercer University, please contact the Office of University Admissions at (800) 840-8577 or admissions@mercer.edu. Learn more about Mercer online at mercer.edu/admissions.