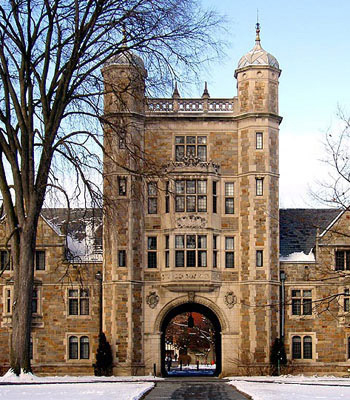 University of Michigan
Penny and Roe Stamps established the Stamps Scholarship at the University of Michigan in 2006. The Stamps Scholarship provides merit scholarships of $10,000 per year for up to four years to the brightest and most outstanding undergraduates at Michigan. In addition to the Stamps Scholarship, the University and the participating schools and colleges provide matching funds to Stamps Scholars.
Stamps Scholars at Michigan also are eligible to receive enhancement funding for study abroad, community service or research projects. The enhancement funds of up to $5,000 per student, funded by Penny and Roe Stamps with matching funds from the University, may be used throughout the students' four undergraduate years at UM. Study abroad programs must be affiliated with the University of Michigan.
The Stamps Scholarship is given annually to 18 freshmen. In the spring of 2011 there were 69 Stamps Scholars enrolled at the University of Michigan.
Stamps Scholars are members of the Stamps Scholars Society. The purpose of the Society is to connect the Stamps Scholars to one another, the University community and the Stamps family. The Stamps Scholars Society is a recognized University of Michigan student organization with elected officers: Co-presidents, Treasurer, VP of Community Service, VP of Mentorship, VPs of Communication, Social Chair, International Center Liaison, Career Center Liaison.
The $4.4 million donation from the Stamps also will support an endowment for the auditorium on North Campus. To recognize the long involvement and commitment of the Stamps to the University, the U-M Board of Regents approved the naming of the Stamps Auditorium, a 460-seat facility under construction on North Campus. The Stamps have made gifts totaling $9.4 million to The Michigan Difference, the University's $2.5 billion fund-raising campaign. Penny Stamps is a co-chair of The Michigan Difference and a 1966 graduate of the School of Art & Design.
Admission Process for the Stamps Scholarship
Students applying to the University of Michigan do not apply for a Stamps Scholarship. Rather, prospective students of high academic achievement, who have been admitted as first-year undergraduates no later than February 1, will be selected for the Stamps Scholarship by the six schools and colleges that admit freshmen. Recipients are notified each spring.
The six schools and colleges that admit freshmen at Michigan are:
College of Literature, Science, and the Arts
College of Engineering
School of Art & Design
School of Music, Theatre & Dance
School of Kinesiology
School of Nursing
If a Stamps Scholar decides to transfer to another undergraduate school or college at Michigan after their freshmen or sophomore year, such as the Stephen M. Ross School of Business or Gerald R. Ford School of Public Policy, the Stamps Scholar will continue to receive the scholarship from the Stamps and the matching University funds.
Tel: (734) 764-1817
Website: http://www.umich.edu/